Home Grown In the Garden State
Welcome to my web site!

My interest in genealogy began shortly after retiring from the U.S. Air Force in 1987. Growing up, despite having a close knit family, there was never any discussion about ancestor, family history, or traditions. By the time I finally got interested, both my mother and father were deceased. I knew very little about my grandparents and wondered just how I fit into the family picture. I began asking other family members questions regarding the family and was amazed at what little they really knew about their parents and grandparents. Thus, armed with a few tidbits of information, I set on a personal quest to find my roots.

I began my research with my father's Sutton line. At first, I thought that the Sutton name was fairly uncommon in New Jersey and that my research would be rather easy. Was I wrong!! The name may not have been common in the my hometown, Bayonne, and immediate surrounds in the 1950s and 1960s but a drive west into Hunterdon, Somerset, or Morris Counties, where my search began, and the name might as well have been "Smith". I was stunned by the number of Sutton families and I knew this research was not going to be a "cakewalk".

When I began this research my goals were twofold: 1) develop my direct Sutton and Jones family lines, and; 2) validate all events and facts with source information. Fortunately, both my Sutton and Jones families where pretty much a fixture in the state of New Jersey from the time they arrived from Europe. This allowed me to focus my research primarily within New Jersey where I was able to acquire facts and source material directly through repeated research trip to the NJ State Archives and, as it continues to develop, from published data on the Internet. Other information was acquired from material extracted from various books and papers and information received from other researchers. This latter information, in many cases, lacked the source information necessary to validate the material but provided many clues. I also found that often the supporting records either did not exist or they have eluded my search.

Initially my research focused on my direct Sutton family(paternal father's line), which began with William Sutton who settled in Piscataway, NJ around 1666 having come from Scituate, Massachusetts and my Jones family (paternal mother's line) who arrived from Manchester, England in 1848 and settled in Paterson, NJ. The "genealogy bug" hit me hard and my research extended well beyond my direct lines and followed the ever expanding westward migration of the Sutton families from NJ. In addition to my Sutton and Jones lines, I have also researched my father's maternal O'Brien line and mother's maternal Otto line. At about the same time, I began to research my wife's family lines. These are all from Pennsylvania and consist of Eltz, Bush, Connor, and Kelly. All are found on this website.
DNA
In 2008 I added DNA as a tool to help with my family research.  DNA can be very useful in knocking down those "brick walls", but can also open that proverbial Pandora's Box.  My DNA test results opened that box.  When comparing my Y DNA (STR) results with those of other Sutton lines, there was quite a disparity.  This disparity was too varied to be caused by mutation of the genes.  Thus the only other possibility was what is commonly called a "non-paternal event or NPE."  My thoughts were, given the age of the line, it probably occurred back several generation, as I had a solid paper trail for at least the last three generations.  However, this continued to eat at me so I decided to try to eliminate the chance that this event occurred in the recent generations by first having my brother test.  His DNA results match mine so I knew that Harold Sutton was in fact our father.  I had one male cousin who I was finally able to locate and requested he test.  The results, his DNA matched all those other Suttons but not mine.  I now had the answer to where the NPE occurred and that Isaiah Sutton was not my dad's legitimate father, despite the birth certificate having Isaiah listed as the father.
I opted to take Family Tree DNA's "Big Y" test in June 2016.  This test proved vital in determining my true paternal line.  The results of the Big Y test showed that my dad's father was a member of the McDevitt (McDaid) family.  My goal, while I may never learn my dad's actual father, is to at least connect to a direct McDevitt family so I can continue to research and extend this Irish ancestry.  I have included in this research, McDevitt families that I have traced living in Bayonne, New Jersey at the time of my dad's birth.  At the same time, despite this unexpected event, I will continue to research the Sutton family lines.
I dedicate these pages first to my family who tolerated my absences while I was away doing research or at the computer at home doing research or data entry. Secondly, I dedicate this as a remembrance to all those family members I never met but, in some way, have all contributed a little to who I am today.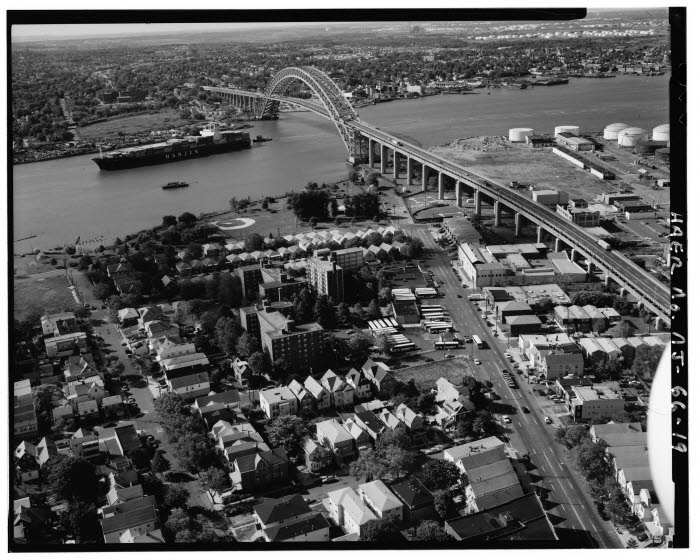 Aerial view of the Bayonne Bridge, which spans Bayonne, NJ and Staten Island, NY. Also in view is the home on Trask Avenue where I grew up.
---
Table of Contents
Individual Report for Dennis Paul Sutton
Surname List
Index of Names
Sources (Bibliography)
---
Newspaper Extracts
I have attempted to transcribe all the marriage and death information found in the Hunterdon County Democrat newspaper and offer it here for you to search. The extracts cover the period 1838-1888. The information not only contains information relevant to Hunterdon County but throughout New Jersey and other locations across the United States. I still have microfilm up to 1900 which I plane to eventually extract the data from. The below link will take you to extract pages. Click "Ctrl F" to open a search box and enter your search information.
---
Contact Information
Send E-mail to njsutton@njsuttonfamily.org
Send mail to:
Dennis Sutton
2949 Eagles Nest Way
Port St. Lucie, FL 34952
---
Home | Table of Contents | Surnames | Name List
This Web Site was Created 23 December 2016 with Legacy 8.0 from Millennia